Ranked 10th in the nation, Ohio State, came in this week trying to keep there playoff hopes alive coming off a win against Michigan State and even with one loss, they've had there defensive and offensive struggle throughout the year. Maryland was looking like an easy match-up for OSU and although they did come through with the win, Maryland was still a tough fight.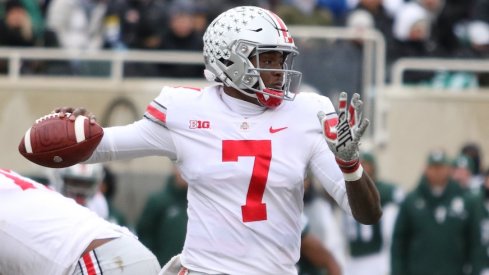 Touchdown after touchdown after touchdown. That is mostly how the game went… But lets skip to the end of the 4th quarter.
1:41 Sec Left: Maryland recover fumble in end-zone for a touchdown-Score 45-38 Maryland
0:40 Sec Left: OSU drives to the end zone and finishes with a 3 yd pass to tie the game- Score 45-45
0:00 Its Overtime!
Overtime. The Buckeyes playoff hopes are on the line and the Buckeyes came ready. They finish the drive with a 5 yd run for the touchdown to make the score 52-45. But wait! There is more! Maryland goes for a 24 yard run to the OSU 1 to start off the drive and finishes it with a 1 yard run to make the score 52-51 with the Buckeyes winning.
The Final Play.
The Terrapins decide to go for two and unfortunately, the play did not go right for Maryland. OSU stop the Terrapins from taking the lead and ends the game.
Score: OSU 52 Maryland 51